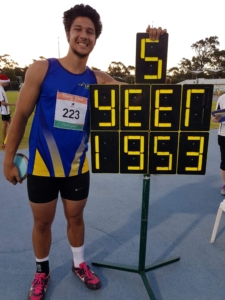 Article by Athletics Western Australia:
On 20 December 2018 at the Western Australian Athletics Stadium, Etienne Rousseau used the Invitational Men's Shot Put to have one last crack at the U16 Western Australian State Shot Put Record for boys U16 with just 11 days before he moves up to the Under 17/18 weight. It was a stellar display of sportsmanship at the Shot Put site, as Etienne Rousseau was encouraged and cheered on by fellow junior competitors Jackson Hamilton and Jacob Matteo, alongside senior athletes Matthew Cowie and Courtney Heinze.
It came down to the final throw, and Rousseau showed he saved the best until last, producing a 19.53m throw to break the 32-year-old State Record by 9cm. Fondly dubbed 'Rockstar Rousseau' by our volunteer commentator Travis, he backed up his performance with 51.74m in the Hammer Throw and a personal best of 67.24m in the Discus.