Meeting Todd Davey (52) one cannot but be impressed with his achievements. Returning to athletics at age 46, after retiring as a junior decathlete, Todd soon rose to the top.
In 2013 he was crowned World Champion in the M45 age group Throws Pentathlon at the World Masters Athletes (WMA) Championships in Brazil. This competition was also a good hunting ground for him when he went on to win the silver in Discus Throw, bronze in Shot Put, and a 4th position in Weight Throw, all in M45.
"My first year back in the sport and with unexpected success in the WMA Brazil taught me I was extremely lucky and to repeat that feat and continue to improve would require a lot more work than I had done for these championships – so I undertook a commitment both physically, technically and mentally to take it up a notch and to also embrace this great sport and the people within it with as much passion as possible."
Inspired by these achievements, Todd continued his dominance in throwing, winning gold medals in the M45 Throws Pentathlon, Discus, Shot Put, Hammer and Weight Throw at the 2014 Oceania Championships in Australia.
He repeated his form at the 2015 Oceania Championships in the Cook Islands winning gold medals in the M45 Throws Pentathlon, Discus, Hammer, Weight Throw and Javelin. He is the Oceania Championships Record Holder M45 in Throws Pentathlon and Discus.
As a local Perth athlete, Todd had a reputation to defend. At the 2016 World Masters Athletes (WMA) Championships in front of his home crowd. He did not disappoint when he once again stepped on the podium with a second World Championship title, this time in Shot Put M50. This competition saw him also winning silver medals in Discus and Throws Pentathlon and a 4th place in Weight Throw.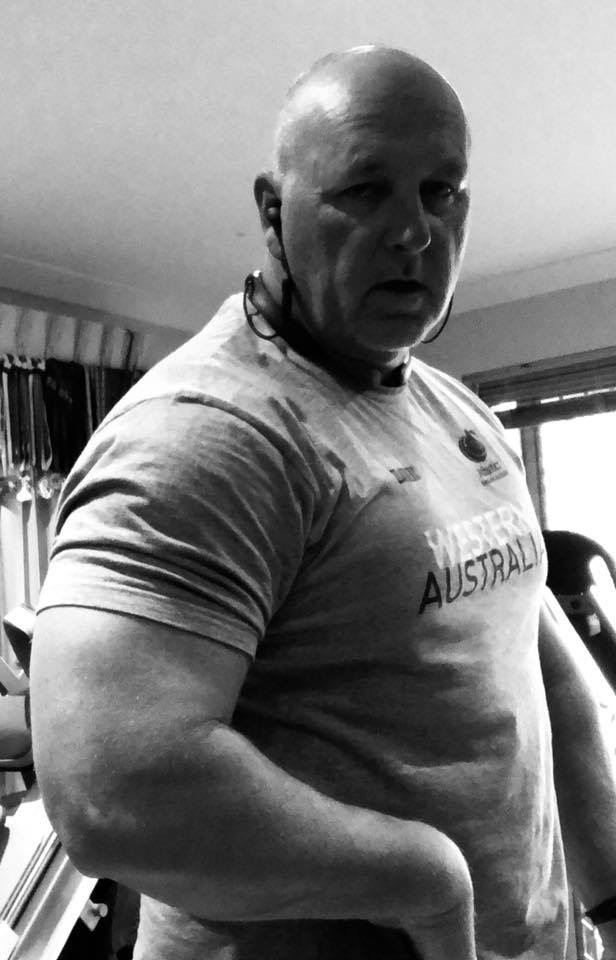 In the period from 2013 to 2018, Todd won 20 Gold Medals, 8 Silver Medals and 4 Bronze Medals at the Australian Masters Track & Field Championships.
He broke the Australian Discus Record in the M50 five times, the last record being 55:54m. He broke the Australian 100 pound Weight Throw Record twice in the M50, the most recent being 4:81m. He also broke the Australian Throws Pentathlon Record twice in the M50 with 4251 points. Todd has broken an amazing 138 State Records in 2 age groups M45 & M50.
He has received recognition for his achievements by being honoured as:
Australian Masters Thrower of the Year 2016/17
Australian Masters Throws Championships Athlete of the Meet 2017 & 2018
Australian Weight Throw Champion of Champions winner 2018
Tasmanian Masters Athlete of the year 2018
Tasmanian Masters Thrower of the year 2014 – 2018
First Australian Male Thrower to win a World Championship Throws Pentathlon Title in 2013.
He has been World Ranked in the Top 10 for 5 years in a row in Throws Pentathlon, Discus, Shot Put and 56 pound Weight Throw. He enjoys an all time World Ranking list top 20 in the Discus and Throws Pentathlon.
Todd is recognised in the world throwing community as an ambassador, mentor and leader. He is currently serving as World Masters Rankings Board Member. He is the WA Throws Mafia Founder and Facilitator. He is also a founding member of the Western Australian Throwers Club.
"If you really apply yourself, set goals and targets and adopt your sporting vocation with unresolved passion and commitment you can conquer the WORLD.
"It has become my true work / life balance and I wouldn't change a thing including all of the injuries and setbacks as they define your character and give you drive to overcome obstacles.
"Throwing on just natural talent is fine if that's what you want to do. But if you don't have the natural talent like myself and 99.9% of others then you gotta put the hard yards in. No excuses at all for not doing it – it's a must if you want to throw further and improve. Lets see where we are in another 5 years".
Todd you are an inspiration to us and we wish you well mate Throw Far.