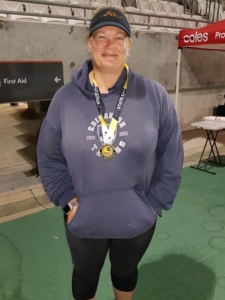 On the weekend of the 15th to 17th February Western Australian Throwers Club (WATC) won a record medal haul of 25 medals. Byrony Glass, World Masters Champion in 2018 in W40 Hammer and Pentathlon, won her 26th consecutive Western Australian State Open Hammer Title.
In total WATC athletes won 12 Gold Medals, 11 Silver Medals and 2 Bronze Medals.
Hammer was our best discipline where we won 8 Gold Medals 4 Silver Medals and 3 Bronze Medals.
In Shot Put our athletes won 2 Gold Medals and 3 Silver Medals.  Discus produced 1 Gold Medal and 2 Silver Medals. In Javelin our athletes stepped up to the podium for 1 Gold Medal and 2 Silver Medals.
A huge thanks goes to Lyndsey Glass for investing three days a week for 2 hours in our athletes.