Meet Alex de Silva WATC's current Male Rising Star for the 2018/19 Season. 
Coming from an Australian Throwing family of "Royalty " Alex had almost no change to escape stepping into the huge throwing boots of a living legend – his grand dad Alex Brown, crowned three times Australian Men's Shot Put champion. 
This family of throwers produced more legends with his aunt Tracey Brown – State champion and National Shot Put thrower and aunt Alexie Brown – National Jnr Hammer Throw Gold medalist. His mother Michelle Brown (De Silva) represented Australia in the World Masters Athletics Championship in Shot Put.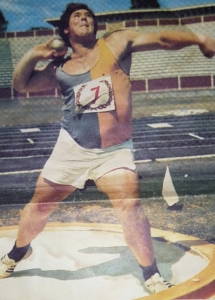 Alex's had his first Hammer competition on the 25th October 2016.
Asked what do you see as your career highlights Alex was quick to say his number one highlight was when he stepped onto the podium this year at the Australian National Championship in Sydney receiving the bonze medal U/16 boys for Hammer Throw.
His second achievement that stood out for him is placing 6th at the 2017 Australian All School Champship in Adelaide and this after only throwing the Hammer for a year. Number three would be breaking the 50m barrier last year during an Athletics Western Australia competition. Rating fourth as a highlight was winning the bronze medal at the Western Australian State Championships in March this year in the Open Men's Hammer Throw as a 14 year old.
Last but not the least was being awarded with the WATC Male Rising Star award 2019.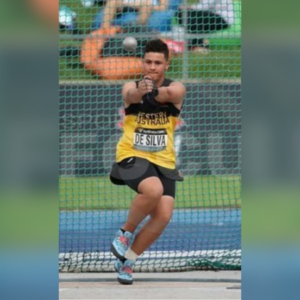 'My pop Alex Brown who was 3-time Australian Men's Shot Put Champion is my biggest inspiration. My family are my biggest supporters.  When I won my bronze medal at National's my first call was to Pop as I knew he would be proud of me, and he was.  I call Pop's mobile when I throw a PB at training or in comp. I always keep him updated on my progress.   Having pop present me with my silver medal in the U/16 boys Shot Put at the State Champs was a really special memory for me."
Alex has a lot of gratitude for his coach Lindsey Glass. "My family have a long history with Mr Glass and his family which spans nearly 30 years.  My Pop was Byrony Glass's first hammer coach.   Mr Glass also coached my Aunty Alexie before she moved to Melbourne to continue her hammer training in Victoria.  Mr Glass is now coaching my sister Eesha and I."
'My favourite athletics stadium is the West Australian Athletics Stadium.  It is my training centre. I feel comfortable there and know the circle. I am looking forward to Perth hosting this years Australian All Schools Championship in December.
"My season goal is – breaking the U/16 boys State Hammer record, which has stood for more than 30 years.  My long term goal is to make it in the Australian Team for the 2021 Commonwealth Youth Games in Trinidad and Tobago and 2028  The next would be making the Australian Team for the Olympic Games LA."
Alex will be completing his Yr11 studies next year. Alex will be completing his ATAR and will be looking for a career pathway as a PE Teacher or in the Sports Science field.
Over the winter Alex is a keen footballer. Alex is currently in the West Coast Eagles "Nic Natanui Academy" development squad and was recently selected for the Perth Demon's 15's Football development squad.   If Alex had to make a choice between the two sports Alex would choose Athletics.
His current competition PB is 50.06m.
Asked what does he enjoy in the WATC he replied "It is a very friendly club where there is no rivalry amongst throwers. During competitions WATC throwers come together and encourage and support one another.  There is a sense of  'mateship' amongst the throwers at our club.  WATC has a good mix of experienced masters athletes as well as Open and jnr athletes."
What advice would you give to young throwers: "Don't expect too much too soon. Train hard, stay committed and driven. Make goals realistic and achievable.  Listen to your coach."
We wish Alex all the best for this coming season.