Meet Alex de Silva WATC's current Male Rising Star for the 2018/19 Season. 
Coming from an Australian Throwing family of "Royalty " Alex had almost no change to escape stepping into the huge throwing boots of a living legend – his grand dad Alex Brown, crowned three times Australian Men's Shot Put champion. 
This family of throwers produced more legends with his aunt Tracey Brown – State champion and National Shot Put thrower and aunt Alexie Brown – National Jnr Hammer Throw Gold medalist. His mother Michelle Brown (De Silva) represented Australia in the World Masters Athletics Championship in Shot Put.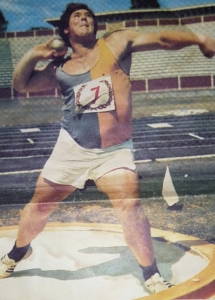 Alex's had his first Hammer competition on the 25th October 2016.
Asked what do you see as your career highlights Alex was quick to say his number one highlight was when he stepped onto the podium this year at the Australian National Championship in Sydney receiving the bonze medal U/16 boys for Hammer Throw.
His second achievement that stood out for him is placing 6th at the 2017 Australian All School Champship in Adelaide and this after only throwing the Hammer for a year. Number three would be breaking the 50m barrier last year during an Athletics Western Australia competition. Rating fourth as a highlight was winning the bronze medal at the Western Australian State Championships in March this year in the Open Men's Hammer Throw as a 14 year old.
Last but not the least was being awarded with the WATC Male Rising Star award 2019.